I had a tutorial with Ingrid this morning and i've been inspired to think big and outside the box!
I had not previously considered that a bowl could be more than just a bowl. I't could be anything! More specifically a costume. I feel I was limiting myself before to produce something I thought was expected of this project when I should do something that is inherent to my personal practice.
One artists she showed me really inspired me:
Sarah Younan – My Little Teapot
https://www.axisweb.org/p/sarahyounan/#info
Sarah's practice spans across performance, ceramics, digital technologies, research and maintenance art. This particular work was about the sexualisation of objects. The bringing together of a conventional medium such as ceramics and an unconventional practice such as performance art is what really interests me. Maybe I could do a similar performance or costume based project with found or upcycled objects?
This has made me think about the bowl in relation to the body, how do they interact and how can that conventional relationship be subverted? It's made me feel I should put my exploration of rubber on the back burner and potentially pick it back up at a later date.
The real question going forward is what do I wish to say with my project. If i make a bowl into a costume is it representing a part of society just as Younan has done? or is it a whimsical invention? Is it a satirical object?
A quick google search for wearable bowls led me to the Reynolds Wrap, hunger harness
https://www.reynoldskitchens.com/reynolds-wrap-hunger-harness/
It described on their website as "the ultimate game day wearable" it was developed for this years Super bowl in America. At first glance I thought it was a joke, but more research told me they are very serious about this invention which aims to "help keep sandwiches melty, wings piping, and you stationary".
I genuinely think this is hilarious but also so eye opening to our mass consumer culture! What particularly struck my attention was one of its selling points:
"Integrated food tray that turns you into a human table – life goal accomplished"
The thought that many people's idea of a good time is being turned into a human table to ease their excessive food consumption and take sloth to a new level baffles me!
The slogan reminded me of Allen Jones' Table: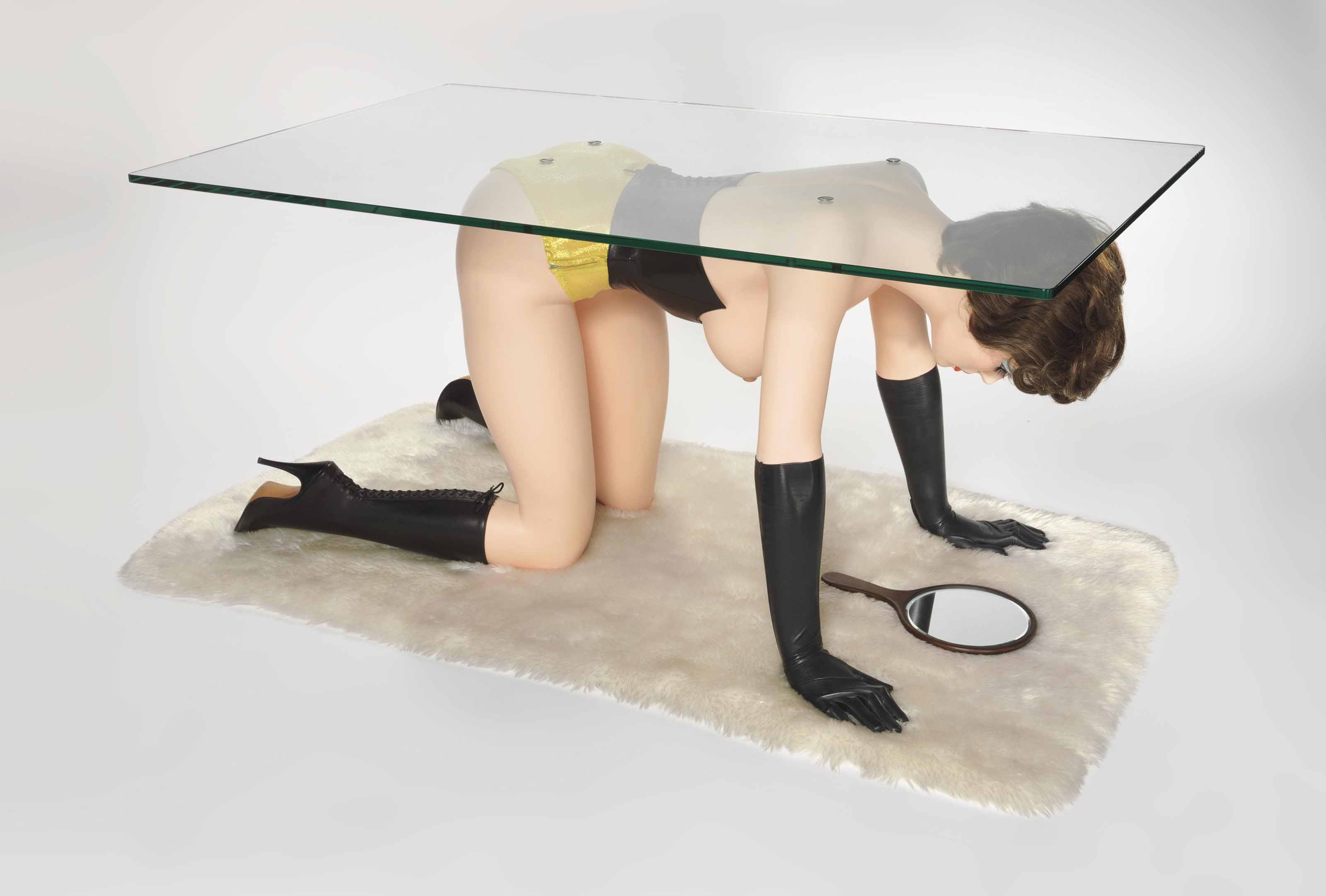 https://www.christies.com/lotfinder/Lot/allen-jones-b-1937-table-5766935-details.aspx
"Jones's provocative Table is one of three 'furniture' works (alongside Handstand and Chair) that show women wearing fetish clothing portrayed as objects. They caused controversy when they were first exhibited and have lost none of their power to provoke anger. Jones produced them at the time the Women's Liberation Movement became prominent and women artists critiqued the 'male gaze'"
https://www.tate.org.uk/art/artworks/jones-chair-t03244
The hunger harness has inspired me to potentially make a wearable bowl as a satirical object. Something that draws attention to capitalist consumer culture that seemingly aims to turn us into nothing but objects, fit only to consume. This also means the accompanying video could be a cheesy advert for my mock product. I think using found and recycled objects (which is always my aim) will add to the commentary of the product.